Helena Lindh
Research
My research brings together packaging logistics and sustainable development. My doctoral thesis "Sustainable Packaging of Organic Food: Myth or Reality?" brings in a packaging logistics perspective into the exploration of sustainable packaging for food products and organic food products in particular.
What is sustainable packaging from a packaging logistics perspective? How desirable is it from a consumer point of view? What features regarding food packaging are important to consumers? How is packaging design managed by brand owners? Does it differ between organic and conventional food products? These are examples of questions that my research address. I will defend my Doctoral Thesis Friday 29th of April 2016.
Since February 2016 I continue my work within Sustainable Packaging but as a packaging development consultant at ÅF in Malmö.
Background
My research at the Division of Packaging Logistics started with a project in traceability of food products financed by the VINN Excellence Centre, NGIL. The research was theoretically based, yet performed in close contact with industry. It is from this research my licentiate thesis "Traceability in Food Supply Chains – Beyond Food Safety" emanates. I discovered an interesting paradox in that many of us, myself included, at least partly choose organically certified food products because of our environmental concern. However, looking closer at the packaging that actually carries the organic label, these packages are not regulated in the same way as the products regarding their environmental profile. Hence, this became a research area of mine after finishing the Licentiate thesis.
In 2010 I received a scholarship from "Sparbanksstiftelsen Färs & Frosta" and "Skåneländska Gastronomiska Akademien" for my studies. This scholarship financed my initial studies on organic food packaging.
Teaching
My teaching interests have been in the Packaging Technology & Development course (MTTN40) and the Packaging Logistics Course (MTTN35). I have been responsible for parts of the Packaging Technology & Development Course, where I have promoted differentiation in the education to meet the different needs of the students, since we all are different and learn in different ways. I supervised student groups during their course projects. In the Packaging Logistics course I have guided and been teaching students in the use of CAPE software by which we analyze packaging dimensions and interactions in the packaging system.
In my teaching I try to provide opportunities for active participation by the students. Through their participation, motivation and encouragement I strive to create an environment that entices the students to active learning. Anchoring my own research and my lectures in an everyday life context is important for me to capture their attention and generate interest by giving examples that are easy to relate to. I also wish to inspire students so that they see that there can be a close connection between research and issues in everyday life. Learning not only takes place in the classroom but throughout our daily lives.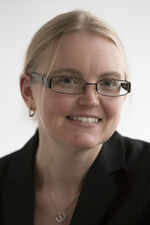 Helena Lindh
Licentiate in Engineering, MSc (ME)
Telephone: +46 46 222 39 43
Fax: +46 46 222 80 60
helena.lindh@plog.lth.se
_______________________
Packaging Logistics
Design Sciences
Box 118, SE-221 00 Lund
Visitors: Sölvegatan 26, Lund